7 helpful tips you need to know if you still work full-time
When you first start a business, it's pretty likely you also have a full-time job, because you still have to keep the lights on. Not everyone who starts a business has a massive amount of cash behind them to make it run, and a lot of us worked through the first stages of our company because we just couldn't afford not to.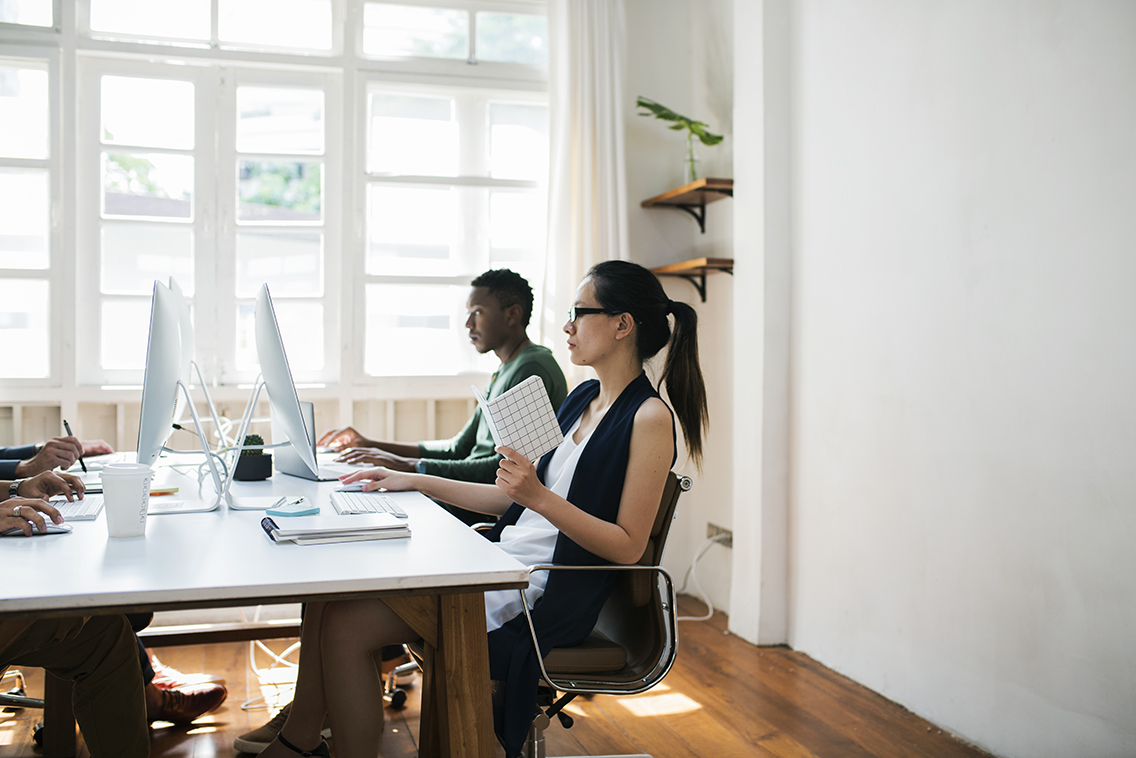 And here's the thing, that's actually better. Research shows that founders who keep their day job while they start up their company are 33% more likely to succeed than founders who quit right away and go all in.
And there are several reasons for that. It's a lot of pressure to build a company and build your entire audience in one year (or however long your funding/savings is keeping you afloat). Add in the fact that you now have to cut financial corners in your personal life in order support the business, and you realize that all of a sudden you're eating a lot of cereal for dinner and don't have health insurance anymore. It's a lot, and it's mentally taxing. Keeping your day job while you build your dream can keep you from feeling life-or-death about your business, which means you can actively nurture it even more over time.
And here's the dirty secret: if you're full-time or not, it doesn't matter. Building your audience takes a massive amount of time. If you want a real tribe, you have to build authentic relationships. In ethical fashion, those are the kinds of relationships that are going to make your company successful, so you need to give yourself the space to do it. Sometimes that means keeping your day job in order to support your business more fully.
That being said, it's a huge challenge to follow through. You're emotionally and mentally drained, and a lot of times your day job has you feeling like, "What am I doing here? I could be spending my time doing something better… like working on my own thing." Guys, I hear you, I went through this also. Hell, there are days where I still go through this now. Running a business is expensive, and I definitely still decide between taking an extra grocery trip each week and paying my CPA. Sometimes you just have to make tough choices because Great Leaders Eat Last.
Here are 4 tips for when you're dealing with this, because we all know the struggle of being a boss in one job, and not the boss in another.
Automate as many tasks as you possibly can, because the more busy-work that gets done without you having to dedicate your limited attention to it, the better. Also, if you automate a lot of your tasks, there's less room for human error. You know things are getting done in a specific way, and they'll be completed and ready for you when you need them. There are lots of great automation tools out there, and some are even free. Spend some time understanding what you can automate in your business in order to save you massive amounts of time. We like Zappier for automation.
Hiring someone sounds counterproductive because it means spending money, which you might not want to do. But think about this… How often do you end up forgetting tasks, or putting them off, because your to-do list is a mile long? You blink, and all of a sudden it's 3-weeks later, and your social media hasn't been updated because you were drowning in factory issues, and you just didn't have it in you to sit down and switch gears. Now, your marketing strategy is pushed back, and your tribe hasn't grown so you can't sell your product to a bigger audience because the audience isn't there to hear you, and this time has become sunk cost. All of that could have been avoided, and you could have been making money sooner
When you outsource the tasks that are keeping you from moving forward, it can save you a lot of time, and get you going faster. Hiring a freelancer to keep up with your content may result in all of your content for a month being completed in an hour or two, rather than you spending the whole month trying to get your head around the hundreds of tasks you have to complete. I'm not saying you should outsource everything, but see if there are places you can use some help.
See where you can train on the job
If you're starting a business, there are going to be some basics that are probably covered in your 9-5 that you're not even thinking about. If you're in marketing, you may want to ask your full-time boss to help you learn facebook ads, or even just spend some of your weekly hours working on that. Ask to create a campaign, so you can learn how it works from a business perspective. That way, when you go to do the same thing for your company for the first time, you've got some experience.
It's a lot easier to start documenting your company while you're small, and if you're outsourcing, you're going to need those documents in order to properly complete tasks. Write down everything you're doing for the next 2 weeks, and then fill in step-by-step instructions on how to complete everything. Whenever you add a new task to your list, try to take screenshots or photos of you working through your process. That way, when you have a free-lancer creating your content or working with your brand while you're at your day job, you know their work will be done properly and you won't have to spend extra time going back to re-do it later.
You're starting a new business and you don't totally know what you're doing? Welcome to the club. Using your network will work to your advantage in ways you can't even imagine, even when you think your network is unrelated. Before I started this, I didn't know anyone in fashion, but I knew lots of people in the nonprofit world. That gave me a network of mission-driven experts, and people who knew how to run "strapped-for-cash" businesses, as well as PR contacts, and more. It doesn't matter if you're a neuroscientist, assistant, coder, or a beekeeper. You have a network and if you use it wisely, you'll get ahead quicker.
Your time is valuable, and it's important for you to really achieve your goals in the limited amount of it that you have. Sometimes that means dusting off your shoulder as you stroll out of the office at 5, but staying turned "on." It may be tempting to go home, make dinner, and open a bottle of wine, but unfortunately, that's not the way a life of an entrepreneur works.
Living in New York, it's easy to find happy-hour activities in the ethical space to get to know designers and other business owners, learn new skills, or a myriad of other things. When I was living in San Antonio, Tx and trying to get things off the ground? Well, it was a little different. But I still tried to use that time as wisely as I could. That meant checking out small shops in the city (hey Red Cat & Co.) to build relationships with store owners, or getting in touch with designers from the same area to meet up for a drink (see, I still got a glass of wine in there!). Sometimes it meant scheduling happy-hour skype chats with designers who I was interested in learning from, or doing ICA interviews. Sometimes it meant going into the local art center or college to take a free sketching class because that was helping me to be a better designer.
But even in doing all of these things, I specifically scheduled week-activities that weren't going to completely deplete me and leave me exhausted. You should think wisely about how to schedule your time, and do it in the way that's going to make you the most productive. Sometimes that means leaving the heavy-lifting work for the weekend-when you don't have to spend 7-9 hours in your office before-hand.
If you want to be a successful business owner, you need to commit. Sometimes that means taking a gamble on yourself, and being honest with yourself when the time comes to move on from your day-job. Yes, having a day-job helps to pay the bills, but there will come a time where you have to choose between them, and it might not be when you're good and ready. Being an entrepreneur requires you to take risks, and sometimes that means jumping when you don't have a safety net in the bank
Taking the chance on yourself is really hard, and so scary. It's even more difficult when you're trying to keep a full-time job in the air while you begin your entrepreneurial journey. At the end of the day, it's important for you to remember what really matters, and figure out how to get to your goal, even if sometimes that means you need to take a bet, because remember: you're betting on yourself, and that's the best reason to do it.
Hi there, I'm Cat Bradley
Founder of SewEthico, systems enthusiast, marketing expert, and nonprofit career alum. I help women founders build their first marketing departments and structure their company around their clients, so they can grow, prove traction, and gain funding for their mission-driven businesses. Get my support to grow your business.